Letter to our Shareholders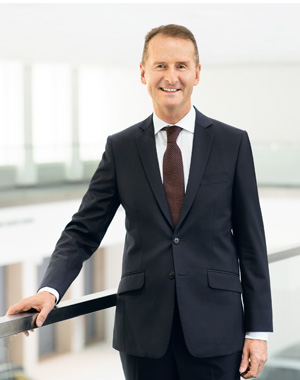 There are many reasons to invest in a company. Some look for returns – for companies built on solid foundations and with healthy prospects. Others look for companies that embrace responsibility for people and the environment. But they all look for companies that are valuable, that create value and stand for values. This is the type of company Volkswagen strives to be. We therefore align our business to the following three pillars: digitalization, electrification and an increase in shareholder value.
The 2018 fiscal year has shown that we have added value in spite of the difficult environment. This value is reflected in 10.8 million vehicles delivered – more than ever before. It is reflected in more than 70 new models launched by our brands. For example SUVs such as the Volkswagen Touareg and T-Roc, the ŠKODA Kodiaq and Karoq, the SEAT Arona and the Audi Q8. And it is reflected not least in our financial figures: sales revenue rose to €235.8 billion. Operating profit climbed to €17.1 billion (before special items of €−3.2 billion). And at 7.3 percent, the operating return on sales before special items was at the upper end of the target range.
The Group is in a solid financial position. Our operating business has proven resilient, despite the headwinds we had to face. In Europe the new WLTP test procedure caused delays in production. There were shifts in distribution, above all in the second half of the year. Volkswagen Passenger Cars and Audi were particularly negatively affected by the introduction of the WLTP. By increasing test capacities and reducing the range of variants, we intend to pass through the next level of the WLTP more smoothly.
We have also defined extensive countermeasures to improve the earnings situation. Appropriate programs are under way in all the brands. Bentley, Audi and also the core Volkswagen brand in particular will have to work more efficiently. At the Volkswagen brand, above all the objective is to shape the future from its own resources. At the main plant in Wolfsburg alone, we therefore want to increase productivity by 25 percent by 2020.
These efforts are also necessary as political uncertainty and an ailing economy are affecting our business in many regions of the world. This also includes China, where the economy dimmed considerably in the second half of the year because of the trade dispute with the USA. Nevertheless, our share of this core market grew further, and deliveries increased slightly to 4.2 million.
In short, the 2018 result was quite a feat. I offer my sincerest thanks to our more than 660,000 employees for their commitment!
And you, our shareholders, will of course also benefit from our success. The Board of Management and Supervisory Board are therefore proposing a significant increase of €0.90 in the dividend to €4.80 per ordinary share and €4.86 per preferred share.
Our emphasis is on the electric car, because from today's perspective it is the best and most efficient choice for reducing CO2 in transport.
Looking ahead, the situation remains challenging. The technological change in our industry – from e-mobility through to digitalization, connectivity, new mobility solutions, and on to automated driving – is going to take a lot of energy and financial resources. We want to shape this development from the top. Therefore, we are realigning our activities. We will increase our efficiency and competitiveness, pick up speed and revise our cost structures.
The coming years will be guided by our electric campaign. We are committed to the Paris Agreement and to making our contribution to protecting people and the environment. We're planning investments of around €30 billion in electric mobility in the next five years. Our emphasis is on the electric car, because from today's perspective it is the best and most efficient choice for reducing CO2 in transport. By 2025, we will put 50 new electric models on the road. By then, every fourth car in our range will be an electric model. With the Volkswagen ID., we will soon offer the first vehicle with a CO2-neutral supply chain and production. This will also change the face of our plants: Zwickau, Emden and Hanover will be transformed into pure-play electric car plants, forming Europe's largest electric production network. In China, too, the conversion of the Anting and Foshan plants is in full swing. The production launch of electric cars in North America is planned for 2022.
But the transformation of the car will go far beyond drives. It is becoming a highly complex, connected device, like a "tablet on wheels", if you like. From assistance systems through infotainment to fully autonomous driving: software will shape the car of tomorrow. To be globally successful, companies need economies of scale, and as a leading company in the sector, Volkswagen has the necessary size. What we are lacking in many areas is software expertise. We are taking steps to acquire these skills by forging alliances with partners, increasing resources at full speed, revising our structures and changing our workflows. We are the first established automaker to separate hardware from software development. At the Volkswagen brand, we have therefore established a separate Board of Management position for software, which will additionally be responsible for the Digital & Software-Services Group division.
We are keeping a close eye on our goal to become the global leading provider of sustainable mobility. This will be possible if we continue to improve. We want to achieve sustainable growth and create value. For our customers. For our workforce. For our shareholders.
I thank you for your trust and invite you to stay with us as we move forward on this journey.
Sincerely,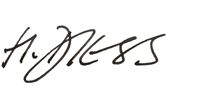 Herbert Diess